NUER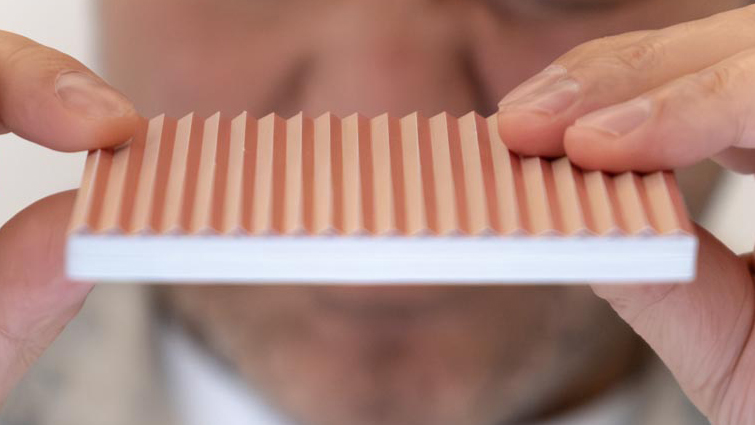 Ceramic tile
Living Ceramics
2022


iF Design Award Gold 2023
Winner – Product

Artificial nature
NUER is a wall covering developed for Spanish tile producer LivingCeramics.
When I visited their factory for the first time and observed their research and technologies, I particularly noticed the high precision of their digital printing. The techniques they had cultivated for years to reproduce various stones and wooden surfaces have developed and put out some products whose performances exceeded the ones of the original materials, also generating new value from a sustainable perspective.

This project started in 2019 and matured its process during the pandemic. As a consequence of being cut off from outside, I thought of creating a renewed connection with the beauty of mysterious nature by exploring further possibilities of wall coverings.
The inspiration came from the natural scenery we can experience every day, such as the pale sunset that marks the end of the day with its beautiful gradation, or the mountains and the forests that show a variety of colors throughout the seasons. The inspirational image posted on the homepage is indeed a sunset gradation picture I took when visiting LivingCeramics' factory.

It is to notice that, in nature, what we perceive as one single color is indeed made by a mixture of countless colors. NUER is characterized by a pleated surface printed with different colors on each side, creating a deep expression while it fades from one color to the other depending on the angle and distance of the point of view. Despite being an artificial material, it has a natural look for it is connected to natural movements.

Inspired by nature and imitating it, LivingCeramics' precision printing applied to rigorous geometries gives life to a completely renewed kind of "nature" thanks to the dynamic relationship between humans and space.

NUER is a proposal for a new concept that can be described as "artificial nature".
人工自然
NUERはスペインのタイルメーカーLiving Ceramics社と開発した壁材。初めて彼らの工場を訪問し、様々な研究や技術を見たのだが、特にそのデジタルプリントの精度の高さに興味を持った。長い期間、様々な石材や木材を模倣する中で培ってきた彼らの技術は、サスティナブルな観点を含め、既にオリジナルの素材を超えるパフォーマンスを生み出していることが理解できた。
このプロジェクトは2019年に始まり、コロナ期間を経てそのプロセスが成熟して行きました。外界との接触が断絶される中、美しく神秘性のある豊かな自然との繋がりを求め、壁材の新しい可能性を探っていったのです。
インスピレーションは美しいグラデーションによって一日の終わりを告げてくれるあの淡い夕焼け、季節ごとに様々な表情を見せてくれる山や森など私たちの世界に存在する自然の景色でした。ホームの写真はまさにLiving Ceramics社の工場を訪れた際に撮影した美しい夕焼け空のグラデーションです。
当たり前だが自然界は一見、単色に見えるモノも実際には無数の色が混ざり合って存在している。NUERの表面は細かいジグザク形状の凹凸があり、各面にそれぞれ異なる色をプリントする事によって奥行きのある表情を生み出しています。またジグザク形状の表面は角度や壁との距離によって色の見え方やグラデーションに変化が生じ、人工的な素材にも関わらず動的変化がもたらす自然らしい表情が感じられます。

自然にインスパイアされ、自然の模倣から成熟したLiving Ceramics社の精密な印刷技術は幾何学造形に展開され、人と空間の動的な関係性により全く新しい種の自然を生みました。

NUERは「人工自然」とも言える新しい概念の提案です。